A Happy and Safe Holiday Season
"To all our Friends, Neighbors Businesses and Visitors"
---
Kevin Martinez: Dead ringers for real guns
• July 17, 2015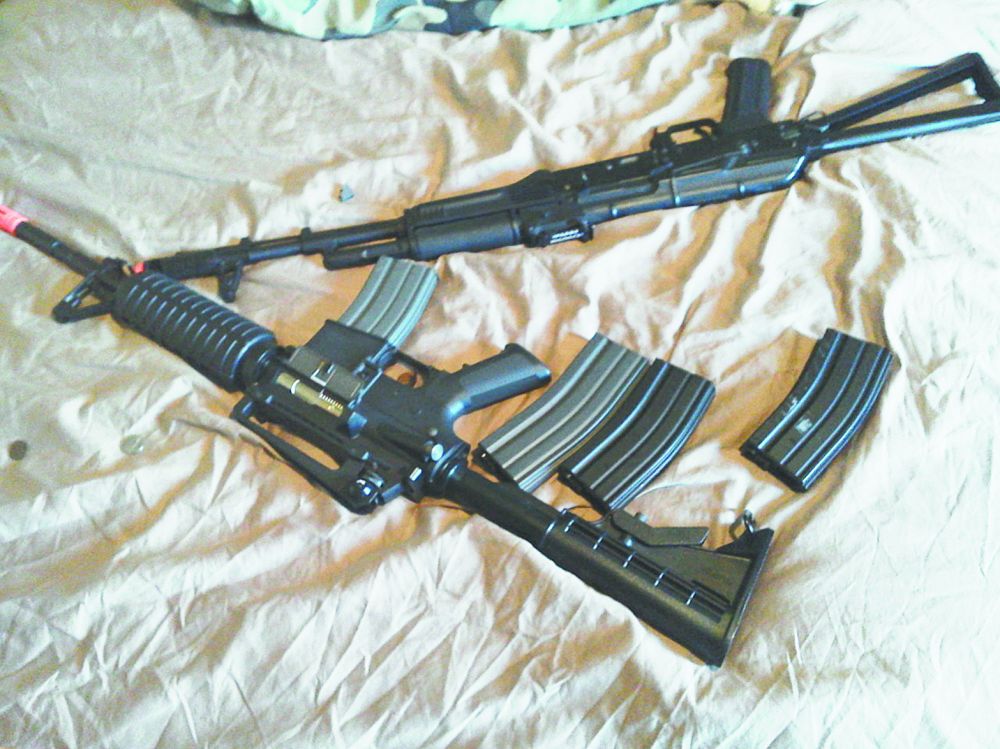 A photo of an airsoft rifles taken by the Carlton Police Department.
If the orange tips are removed, they appear very real. Some criminals will paint orange tips on real guns to make them resemble toys.
Most of us grew up playing with toy guns as youngsters and, years later, our children and grandchildren continue to play with them.
In today's society, where toy guns are more realistic than ever, everyone becomes collectively responsible for teaching our youth about prevention and safety. Most likely, you have heard about tragedies involving the shooting of children and adults who were perceived to be displaying real guns in threatening manner, later found to be toys.
Unfortunately, the reverse situation also can lead to tragedy. Criminals are modifying genuine guns to look like toys. The idea is to escape detection or to provide themselves with an advantage, particularly during encounters with police, when the appearance of a toy gun could delay an officer's reaction, allowing the criminal to gain the upper hand.
As citizens of the United States of America, we value the right — and what I believe is a privilege — to keep and bear arms as guaranteed by the Second Amendment of the U. S. Constitution. This privilege includes being able to play with the type of toy guns commonplace for decades as part of growing up.
But appearing in public with realistic toy guns can be alarming, often resulting in calls to police, who must determine the kind of threat presented. These situations have the potential to turn deadly.
Regardless of which kind of gun is displayed, people should use due caution in confronting anyone whose actions present a potential concern for public safety. If there is not an active shooter, it is best to remain the eyes and ears for law enforcement. If there is an active shooter, citizens should weigh the totality of the circumstances to determine whether they will run, hide or fight and try to stop the shooter.
Balancing safety with our citizens' Second Amendment rights is an ongoing battle for law enforcement. Our primary objective is to protect and preserve life while, at the same time, safeguarding the constitutional rights of all.
One safety measure helping to minimize tragic events is requiring toy gun manufactures to place visibly identifiable orange tips on every toy gun. Unfortunately, some criminals paint orange tips on real firearms. In addition, criminals disguise real guns by inserting them within the shell of toy guns. Citizens should promptly report these individuals to the police — nothing good results from this type of behavior.
If you are buying a toy gun for a child, avoid those that look too realistic and do not allow children to remove the orange tips. Local police departments do their best to educate children and communities about the responsibilities and potential perils of playing with toy guns or displaying them in public settings. Today's reality demands prevention efforts also from parents, guardians and community members.
As with handling and possessing real guns, education and safety is imperative for anyone playing with or in possession of toy guns. Although it will be impossible to determine whether a real gun or a toy is being displayed, children, parents and adults must be aware of the associated dangers.
Heartbreaking outcomes result in the wake of encounters where a realistic toy gun was perceived to be real. If a law officer gives you instructions, comply! Do not, even in a joking manner, point a toy gun at an officer or citizen.
In most circumstances, public safety officers have only a split second to determine how to respond to a potential threat. Their response, to prevent serious harm to citizens and themselves, is necessarily based on the observed threat.
With real guns, we all must take steps to ensure they are not mishandled. They must be stored in secured locations that actually prevent children, criminals and those with mental health issues from gaining access. While we are seeing a change in accountability for those who own real guns, too many do not take all the steps necessary to secure them properly. Those who should not use guns should be given no opportunity to gain access to them. We must do everything we can to prevent the types of tragic outcomes we have witnessed across the nation.
By educating ourselves about the risks of possessing real and toy guns, we can give police officers and citizens a better chance to make correct, quick decisions in threatening situations. Only with utmost attention to safety and prevention practices can we prevent real-versus-toy gun tragedies that forever shatter the lives of families, police and communities.
---
American Legion members honored Carlton Police Chief Kevin Martinez at the Legion's 97th annual state convention, held Wednesday through Saturday in McMinnville.
• June 30, 2015
Starla Pointer/News-Register
Carlton Police Chief Kevin Martinez and his wife, Christy, attended the state American Legion convention. He was named the Legion's Western Region Law Enforcement Officer of the Year
Martinez, who earlier was named law enforcement officer of the year by Carlton Memorial Post 173, was honored as the Oregon Legion's officer of the year, as well. In addition, he was recognized as Western Region Law Enforcement Officer of the Year.
The regional award, signed by National Commander Mike Helm, notes Martinez's "outstanding helpful service over and above the call of duty." It also notes that his service "exemplifies the phrase 'America's finest.'"
Martinez started his career in Eugene, then worked as an officer in Lebanon for many years. He came to Carlton as chief in early 2012.
He led the effort to win accreditation for Carlton's three-officer department. Legion members also remarked on his community service efforts. "If you need anything done, just ask him," said Paul Truax, chairman of the national security for the Oregon Legion.
Martinez accepted the award, crediting his department, community and his family for their support of his efforts. He especially thanked his wife, Christy, who worked on the accreditation effort.
And he noted that community partnership, including one with Carlton Post 173, is key to his department's success. Legion members work with the police on events such as National Night Out, and the post lends its meeting room to the police for community safety meetings.
---
Carlton police talk about partnership with community
By Starla Pointer • Staff Writer • March 20, 2015
CARLTON — Public safety depends on a partnership between citizens and law enforcement officers, members of the Carlton Police Department said at a community meeting Tuesday night.
"Both sides can help," Chief Kevin Martinez told a crowd of about two dozen people, including one youngster proudly dressed in SWAT garb.
He and officers Rob Anderson and Jake Blair talked about what they do, the equipment they use and how citizens can help keep Carlton safe.
First, they said, residents can keep their eyes open for suspicious, dangerous or criminal activity and report potential problems. If they see a crime in progress — someone breaking into a car, for example, they should call 911.
If something seems to be an immediate danger, they can call local police through Carlton City Hall, 503-852-7575, or the YCOM dispatch agency's non-emergency line, 434-6500.
For instance, Anderson said, a few weeks ago residents of a Carlton neighborhood called police to report a strange van that appeared to be cruising in an area where children were playing. When officers located the van, they discovered that the "stranger" had legitimate business in the area and was innocent of any wrongdoing.
That was fine, he said. Officers would prefer to check and find that nothing is wrong, rather than letting an actual problem escalate because it's gone unreported.
Sometimes the Yamhill County sheriff's deputies or Yamhill police respond when Carlton officers aren't available. Even then, Martinez said, "We follow up on every call, because we want to know what's going on in our community."
Officers also want to get to know citizens, especially young people, on a friendly basis. They want to help start Neighborhood Watch programs in town soon, and they're planning to resume Night Court basketball games. Both events are part of the department's community policing emphasis.
Anderson said they also like to stop and chat with people they see as they cruise through town. "We're the most approachable people in the world," he noted.
They encourage citizens to reach out to police, as well. One way is to help by being good witnesses, Anderson said.
Witnesses should provide information as specific as possible — the license number of a car, in addition to the make and model, for instance.
It helps police if they can tell officers about a suspect's height and weight, clothing, hair and facial appearance and other details. "What about this person would make him look different from everybody else?" Anderson asked.
If citizens are present at a crime scene, whether or not they are involved, they can help police — and themselves — by doing whatever officers tell them to do.
Anderson said officers responding to an assault call may handcuff both people involved, even though one may be the victim. They do this for everyone's safety, he said, so it's best for people to accept this and wait for things to get sorted out, he said.
"The place to argue about your rights is in the courtroom, not at the scene," he said.
During the community meeting, one of a series sponsored quarterly by Carlton police, officers also talked about a wide range of topics: the difficulty of distinguishing real guns from fakes or toys; the mindset of police, who must be constantly vigilant since the most innocuous-sounding call may suddenly take a turn for the worse; vehicle chases; and equipment, including Tasers, which they demonstrated.
They also talked about the expectations that have developed because of police shows on television.
Many people now expect real officers to solve crimes at the pace set by Columbo or investigators on "CSI," Anderson said. But real life takes longer than a one-hour drama.
"Not saying that we're not that good," Martinez quipped, drawing friendly laughter from the crowd.
---
Carlton police gain accreditation
By Starla Pointer • Staff Writer • January 25, 2014
CARLTON — The police department sailed through the accreditation process, winning approval on its first try.
"This was one of the easier evaluations I've done. It made me feel real good," said Ed Boyd, director of the Oregon Accreditation Alliance.
Carlton is now one of 34 accredited law enforcement agencies in Oregon. The McMinnville Police Department and the Yamhill County Sheriff's Office also are accredited, and Yamhill Police Department is working on the accreditation process.
Accreditation, which is optional, means that a department has been certified as complying with 102 high-level professional standards and practices, Boyd said.
"It gives you transparency within your community," he said. "You can say 'We meet the absolute best practices standards associated with our profession in the U.S. We're the best of the best.'"
Accreditation usually lowers an agency's insurance rates and proves that policies and practices are in place, in case of a lawsuit, said Boyd, who once was chief of the Albany police department.
He visited Carlton Jan. 8 and 10 to review everything associated with the police department, from its filing system to the YCOM emergency communications center. He also interviewed Chief Kevin Martinez and other personnel.
Boyd said he found the department's evidence system, for instance, to be "top notch" and he was impressed by the department as a whole.
He offered special kudos to Christy Martinez, the department's accreditation manager. He said he needed to ask her to make very minor corrections in two of the 102 files. "No big deal," he said.
Many times, he said, a department needs to make major changes to seven or eight files and doesn't qualify on the first try.
When he was finished with his evaluation of Carlton this month, Boyd recommended that the OAA Board approve Carlton's accreditation. The city will receive its official award at the OAA conference in April.
Now that it's won accreditation, Carlton, like other accredited agencies, must continue to keep its polices, procedures and infrastructure up to date. Reviews are scheduled every three years, part of the process of ensuring continued high standards, Boyd said.

---
2013 Law and Order Vehicle Design Contest Winners
LAW and ORDER magazine has announced the winners of the 2013 International Police Vehicle Design Contest.

Carlton Police Department was selected as the winner of the West Division for "Municipal Under 10 Officers, West".
LAW and ORDER started the Vehicle Graphics Design Contest over 20 years ago in an attempt to pass on the very best in graphics used around the country. The "Guidelines for Police Patrol Vehicle Markings" is the next logical step forward in emergency vehicle identity and professionalism.
The judges for the annual LAW and ORDER Vehicle Graphics Design Contest use guidelines to objectively evaluate the entries for the contest. No longer a subjective "beauty" contest, these guidelines will now be a reflection of "the message that an emergency vehicle is here has been received."
Carlton's entry stated:
The patrol vehicle design was created with Community Policing for Carlton, Oregon as the creative concept. Carlton Police Department is committed to the citizens of Carlton and has adopted a community policing policy. The graphic "Carlton" is wrapped in the graphic "Police" on both sides of the patrol vehicle to represent Carlton Police Department's motto "Police and Community Together". This motto is incorporated into the department's vision. The motto is represented on both sides and the rear of the patrol vehicle and it is used widely on the website and written material of the department. The town's motto is represented on the rear view of the vehicle "A Great Little Town". The graphics are a professional black and gold color combination. The colors were chosen for the patrol vehicles and as the department's colors. They represent professionalism and approachability. The graphics are reflective so that during the night hours the citizens of Carlton can easily recognize the vehicles and know that they are proactively patrolling the streets. The patrol vehicles are considered an extension and representation of the police department's commitment to be transparent to its community.